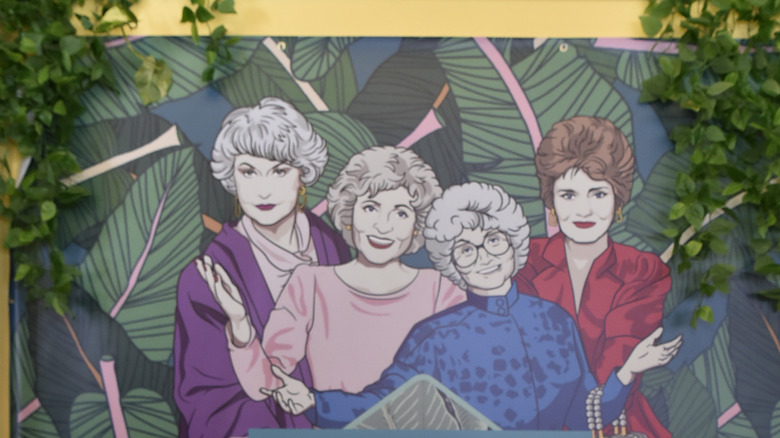 Do you dream of sharing a cheesecake with Sophia, Rose, Blanche, and Dorothy in their Miami kitchen? Well, now you can get pretty close to making that dream a reality. Though we may never know the real reason they ate so much cheesecake on "The Golden Girls," now you can come up with your own reason at The Golden Girls Kitchen, a new Golden Girls-themed pop-up restaurant that's making its way to New York this winter (per Today). The new restaurant/dining experience brings an immersive encounter where guests can interact with the world of the Golden Girls as they are transported to 1980s Miami.
The popular show, which aired from 1985 to 1992 and has since become a cult hit, followed the lives of four older women who move in together: sardonic queen bee Dorothy, loveable but dim-witted Rose, boy-crazy Southern belle Blanche, and Dorothy's mouthy mother, Sophia Petrillo (per San Francisco Chronicle). For nearly 40 years, audiences have loved to laugh along with these funny ladies as they share their struggles over a slice of cheesecake. And now you can get in on that cheesecake action, too, at least if you live near The Golden Girls Kitchen's latest pop-up location in Manhattan, opening December 7 (per Facebook).
The Golden Girls take NYC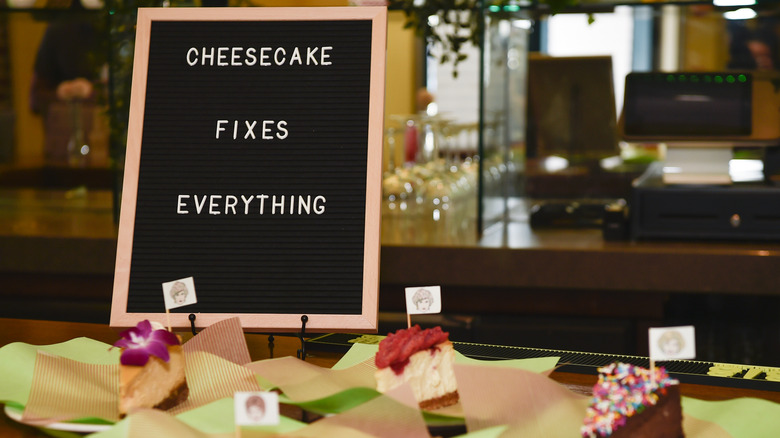 After getting its start in Los Angeles this summer, the pop-up will be opening in New York before heading on to Miami, Chicago, and San Francisco in the spring (per Bucket Listers). Guests to the New York version can expect to see much of the same décor as the L.A. iteration of the Girls' Miami pad, with lots of bamboo furniture and houseplants, and a replica of the lanai, the Girls' Spanish-style patio (via Today). The white-painted wrought-iron patio furniture there will have guests swearing they can feel a warm Miami breeze on their cheek. Also still featured are the impressive replica of Blanche's palm-frond-bedecked boudoir, where guests can snag a photo op, and the exacting replica of "The Golden Girls" kitchen, right down to the brass baking tins hanging on the wall and the bright yellow landline. Homage is even paid to Sophia's cherry-red pots and pans.
For a $40 ticket, fans get a 90-minute window that includes scheduled time to take photos in these and other prime locations, like the "Thank You for Being a Friend" neon sign. During that 90 minutes, guests will of course also eat from a Golden Girls-inspired menu. The menu is full of little Easter eggs fans are sure to love, like the Bacon, Lettuce, and Potato Sandwich, Sophia's Lasagna al Forno, and under the "St. Olaf Sweets" section of the menu, Sperheoven Krispies (no need to hold your nose) and Genurkenflurgen Cake. And of course, cheesecake.