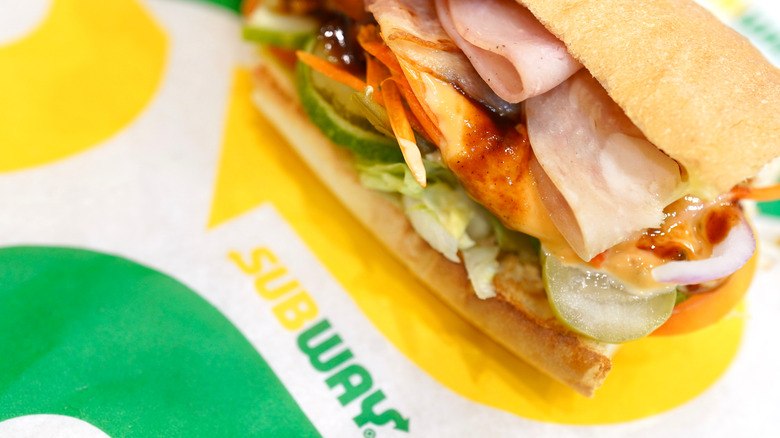 With over 41,000 Subway locations throughout the world, it's pretty hard to not come across one in just about anywhere you go (via Statista). While the restaurant chain boasts a menu of staple sandwiches, subs, wraps, and salads to choose from, it's really the endless combinations at Subway that keep bringing people back for more. With its variety of breads, meats, cheeses, toppings, and sauces, the chain claims there are actually over 37 million unique creations and customizations available in 2012 (via HuffPost). Because Subway introduces new menu options and toppings, by 2018 the restaurant chain actually tweeted that there were over 4.9 billion different sandwiches that could be made in its stores.
With all of these options, you would think that no order would be considered absurd or out-of-the-box. Pickles and mayo on a pizza sub? While it might not be the most popular, someone out there has probably ordered it and tried it. Employees are probably used to some questionable food choices. However, there are still going to be some people that find ways to surprise employees with creative new orders.
No sandwich, just tons of cookies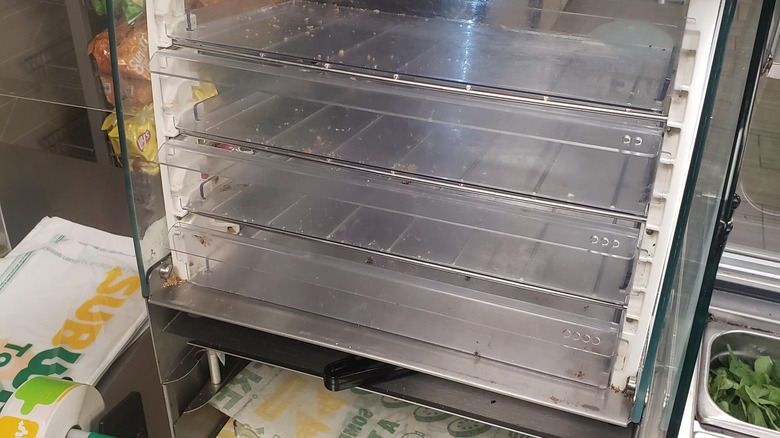 When a customer walks into a restaurant, most would expect them to order a typical meal offering. Especially at a quick service food chain like Subway, most customers probably order a customized sub, wrap, or salad. Not everyone wants to adhere to the status quo though, and when those cravings kick in, they can be hard to beat. According to Reddit, the latest unusual and absurd order taking place at Subway includes a man buying all of Subway's most underrated menu item – freshly baked cookies. That's (checks notes) all 72 cookies in one order.
While this might seem a little absurd, it's totally relatable. "They're pretty good cookies," one Redditor commented. "I live for these cookies so it's understandable," another person said. While 72 seems like a lot, it actually doesn't seem that it would cost a lot. "Would've been $36 for our store. $6 for a dozen," commented a claimed Subway employee.
Next time, we might just have to take part in this absurd Subway order. Bring on the cookies!