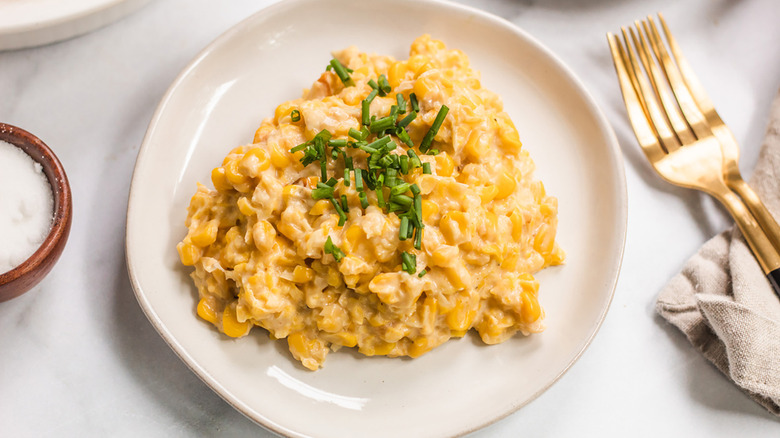 If you're looking for the perfect cozy side dish for just about any meal, let us introduce you to this delicious creamed corn that comes together in your slow cooker with very little effort on your part. Created by recipe developer Jaime Bachtell-Shelbert of Wholly Nourished, this creamed corn is rich and full of so much flavor. Just think of that canned cream corn you sometimes eat and intensify it by about 20. That's how yummy this side dish is.
Slow cooker creamed corn can be enjoyed all year-round, but it's an especially appealing dish in the colder months and especially around the holidays. Plus, it looks super impressive when you put the serving dish down on the table for friends and family. No one has to know that it only took a few minutes to throw everything into the Crock Pot. Ahead, we'll give you the few simple steps it takes to put together this comfort dish so you can serve it at your next get-together.
Gather your ingredients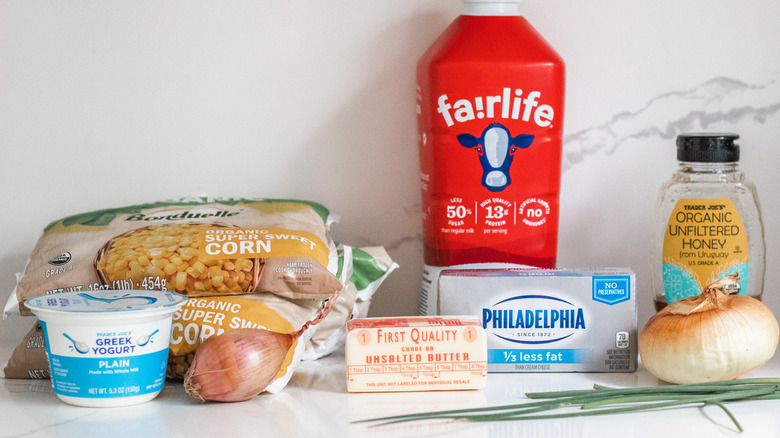 To start, you need to gather all your ingredients. The star of the show is the corn, of course. We use frozen corn in this recipe, but Bachtell-Shelbert notes that you can also use fresh or canned corn if you prefer. Just be sure to drain the canned corn first. You'll also need unsalted butter, olive oil, an onion, a shallot, milk, honey, cream cheese, Greek yogurt, salt, and pepper. If you want to, you can also top the finished dish with chives.
Prepare the onion and shallot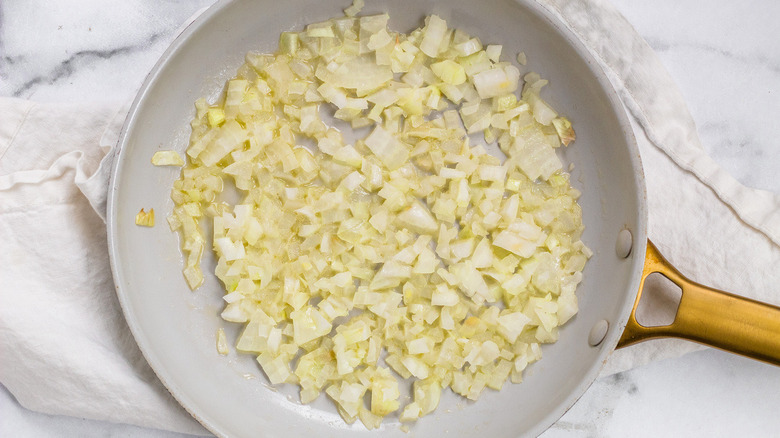 First, chop up your onion and shallot into small pieces. In a skillet over medium-low heat, place 1 tablespoon of your butter and 1 tablespoon of olive oil. Once the butter has melted, add in the onion and cook, stirring with a wooden spoon. After about 2 minutes, add in the shallot. Cook both together until the onions are translucent. This should take about 5 minutes total. Once cooked, remove from the heat and pour into your Crock Pot.
Put everything into the slow cooker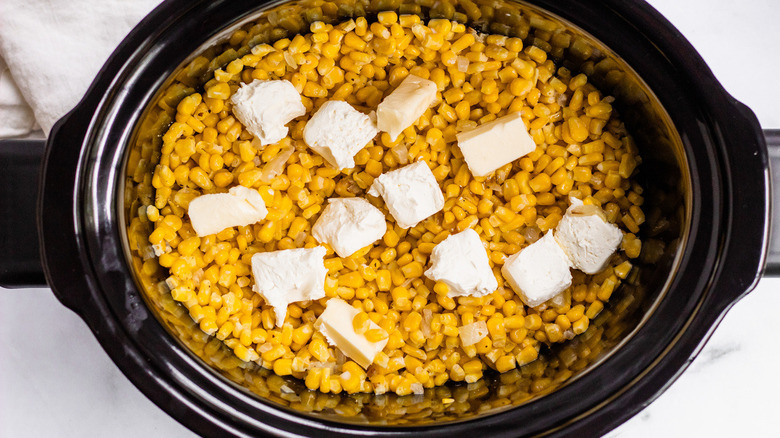 After you've added your onion and shallot to the slow cooker, you can start adding the rest of the ingredients. Throw in the corn kernels (frozen, fresh, or canned), milk, honey, salt, and pepper. You can use a non-dairy alternative if you prefer, just keep in mind that it can affect the flavor in the end. It's also worth noting that there are other dairy ingredients in here, so all would need to be adjusted if you're following a dairy-free diet.
Stir all of those ingredients together until combined. Take the remaining butter and cut it into chunks, and do the same with the cream cheese. Drop the chunks evenly over the top of the corn mixture in the slow cooker.
Cook for 2 1/2 hours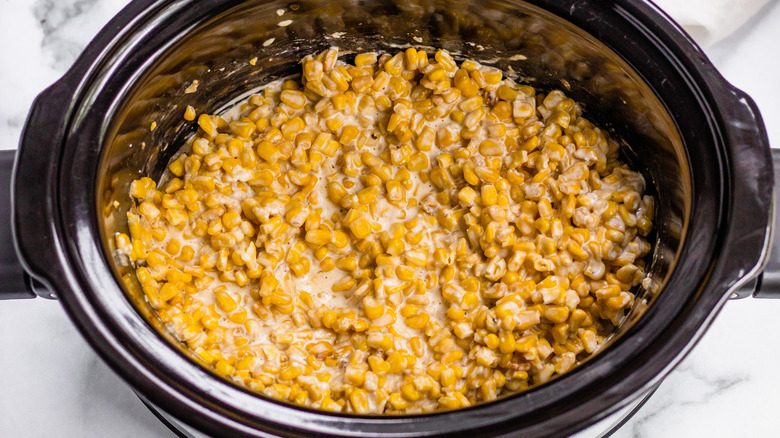 Close the lid of the slow cooker and set the temperature to high. This will cook for 2 1/2 hours. Bachtell-Shelbert says there are two crucial pieces of information to note when cooking this creamed corn. "I would say the number one tip is not to raise the lid during cooking and not to overcook so as to avoid scorched edges," she advises.
Once the corn has cooked for 2 1/2 hours, turn off the slow cooker and stir in the Greek yogurt. We recommend plain Greek yogurt, but you can use whatever fat content you prefer.
Cream the corn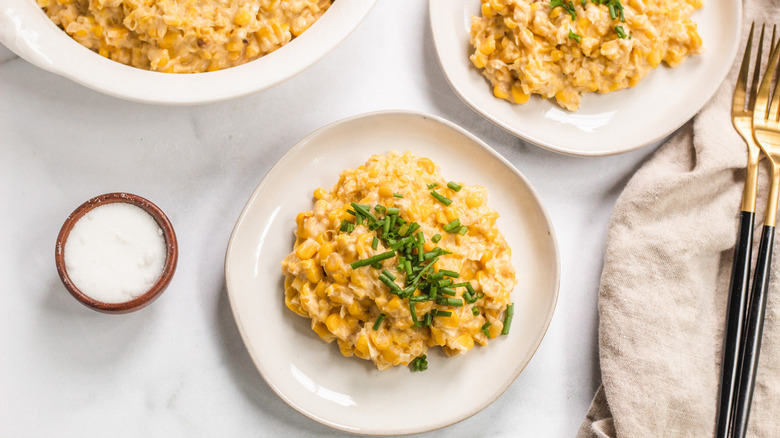 The final step in making creamed corn is, of course, creaming the corn! Using an immersion blender, blend about half of the corn until it's creamy. You can do this right in the slow cooker, just be careful not to cream too much of the corn. You want to keep some chunks intact so you can see the corn kernels. Bachtell-Shelbert says, "You want at least half of the full kernel corn remaining."
If you don't have an immersion blender, take half of the corn out of the slower cooker and put it into a food processor. Pulse a few times until creamy and then pour back into the slow cooker to combine.
To serve, you can top with chopped chives. This dish is best enjoyed immediately while hot, but you can also put it in an airtight container in the fridge for 4 to 5 days.
Crock Pot Creamed Corn Recipe
Creamed corn is a versatile dish that can be enjoyed year-round, perfect for Thanksgiving or the 4th of July. Make it in the slow cooker for an easy side dish.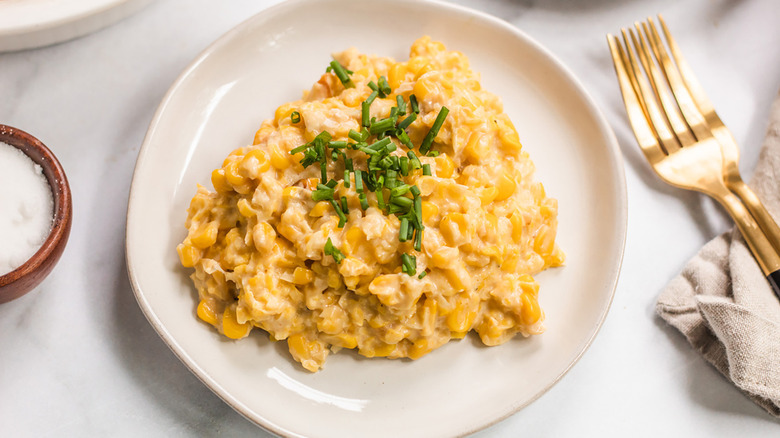 Ingredients
3 tablespoons unsalted butter, divided
1 tablespoon extra-virgin olive oil
1 sweet onion, diced
1 small shallot, diced (about 2 tablespoons)
2 (16-ounce) bags frozen corn (about 7 cups)
½ cup milk
1 tablespoon honey
1 teaspoon salt
black pepper, to taste
4 ounces cream cheese
1 (5.3-ounce) container plain Greek yogurt
Optional Ingredients
Directions
Heat 1 tablespoon butter and the olive oil in a skillet over medium-low heat.
Once the butter melts, add the onion to the pan and cook for about 5 minutes until softened and translucent. Add the shallot halfway through cooking.
Remove from heat and add to a slow cooker.
Add the corn, milk, honey, salt, and pepper to the slow cooker and stir to combine.
Cut the remaining 2 tablespoons butter and the cream cheese into chunks. Spread them evenly on top of the corn mixture.
Close the slow cooker and set on high. Cook the mixture for 2 ½ hours.
Turn off the slow cooker and add the Greek yogurt. Stir until combined.
Using an immersion blender, puree about half of the mixture until desired consistency is reached. If you do not have an immersion blender, remove about 2 cups of the mixture, pulse in a food processor, and return to the slow cooker, stirring to combine.
Top with chives if desired and serve while hot.
Nutrition
| | |
| --- | --- |
| Calories per Serving | 256 |
| Total Fat | 13.3 g |
| Saturated Fat | 6.8 g |
| Trans Fat | 0.2 g |
| Cholesterol | 31.1 mg |
| | |
| --- | --- |
| Total Carbohydrates | 32.6 g |
| Dietary Fiber | 3.1 g |
| Total Sugars | 9.2 g |
| Sodium | 365.7 mg |
| Protein | 6.8 g |
The information shown is Edamam's estimate based on available ingredients and preparation. It should not be considered a substitute for a professional nutritionist's advice.